Malta 0
Turkey 1
Malta: J. Galea, J. Borg, K. Zammit, K. Micallef, D. Vella,  (Z. Scerri), J. Mbong, J. Grech, K.Nwoko, J. Degabriele, J.Corbolan (Z. Brincat), D. Xuereb (J. Walker).
Turkey: M. Sengezer, M. Celik, A. Aydin, E. Ersoy (R. Hanli), M. Demiral, D. Kilic, O. Cinar (M. Okutan), H. Ozkan, K. Kanatsiskus, D. Hummet (Koca), U. Bozok.
Referee: A. Tean (Moldova).
Asst refs: A. Bodean, V. Mardari.
4th official: P. Stoianov.
Scorers: K. Micallef og,
Yellow cards: D. Xuereb, J. Corbolan, J. Borg, D. Hummet, K. Zammit, J. Mbong
A 50th minute unlucky own goal by Karl Micallef proved to be enough for Turkey to condemn Malta to its fifth defeat in as many matches.
Turkey's dominance, however, failed to produce other goals either because there was a great Jake Galea between our posts or because they erred a lot missing a good number of scoring chances.
Despite being lucky in the way they scored what proved to be the winner, the Turks richly deserved their victory having enjoyed possession for about 80 of the 90 minutes.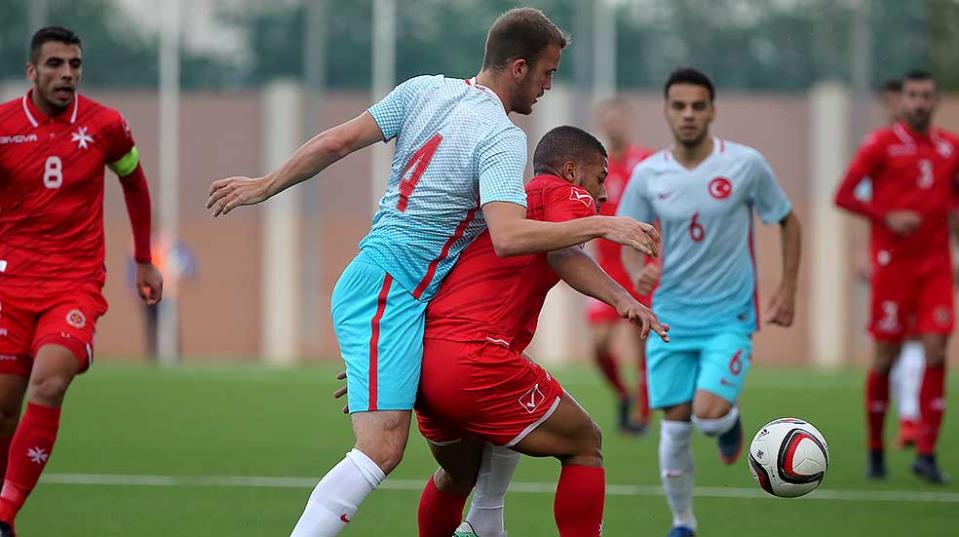 In the first half, Malta was forced to defend for long stretches. The Turks were in command of midfield right from the first whistle and our boys found it hard to move upfield.
The reds were also found wanting in midfield – when we were in possession, we quickly lost the ball through bad passing thanks to which the Turks could take control of the ball before Malta could launch a serious attack on the Turkish goal.
It was thanks to a great Jake Galea between the Malta posts that the score remained blank at the interval, although the Turks also missed some good chances and were also unlucky when hitting the upright.
The Malta goalie was again the great protagonist in the second half even if he was very unlucky in the way he had to suffer the Turkish goal. Before and after the goal, he covered himself with glory, so much so that it seemed as if the Turks were playing against him only.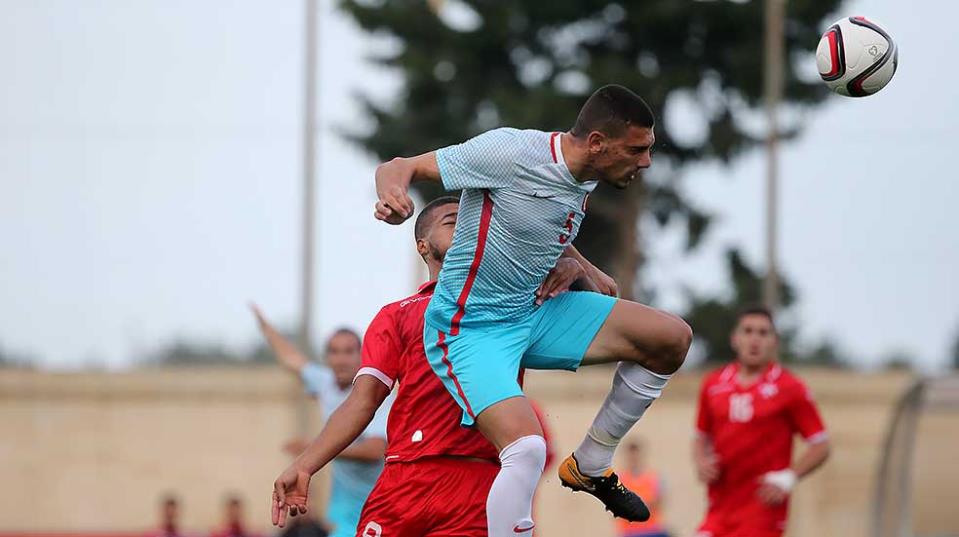 Unfortunately, Galea's great goalkeeping display proved to be not enough as Malta managed just one decent move upfield – late in the second half. It was certainly a poor performance.
After a quiet start, Turkey threatened through Demiral who shot wide from the edge of the area after a melee in the Malta area on 13 minutes.
Four minutes later, goalie Schranz was in action saving a freekick from Cinar. Soon after from a cross by Cinar, Hummet hit wide with only Galea to beat.
On 27 minutes, it was goalie Galea who avoided an awkward situation rushing out of his charge to dive at Kanatsiskus's feet after the latter was put through by Ozkan.
As Turkey insisted on attack, they went closer to scoring on 34 minutes when off an Aydin cross, Celik was unlucky to see his first timer hitting the upright with Galea beaten.
The Malta goalie was again a protagonist on 41 minutes as he turned to corner a Cinar shot. Soon after, he blocked a Kanatsiskus close range effort. A minute later, Ersoy missed a gilt-edged chance for Turkey, hitting wide from five metres.
As the second half started, Bozok set Hummet beautifully in the Malta area, but Galea again came to our side's rescue, blocking the shot to a corner.
Moments later, Turkey took the lead in a very lucky manner. A shot from outside the area by Kanatsizkus was well wide, but the ball hit Karl Micallef and rebounded into the net the other side of the helpless Galea. It was a real pity that he had to be beaten in such an un fortunate manner!
Turkey maintained their supremacy and again it was Galea who saved our fort as he dived sideways to turn to corner a Bozok effort.
On 57 minutes, Hummet set Bozok, but the latter hit incredibly wide from five metres with an open goal at his mercy.
Malta's first – and only – serious chance arrived on 85 minutes when a dangerous Jurgen Degabriele cross was intercepted by goalie Sengezer before Jake Grech could apply the killer touch.